Designed to cultivate excellence in peacekeeping through engaging educational training experiences
Welcome to our prototypes page, showing how the team used learning-by-doing to build capacity for simulation development. The simulations were designed to offer an immersive and practical understanding of the complexities inherent to peacekeeping missions across various environments. The core focus of our existing modules centers on peacekeeping training, with a keen emphasis on instilling essential skills and knowledge required for effective field operations. These modules delve into critical areas such as conflict resolution, humanitarian assistance, and crisis management, equipping participants with the tools they need to navigate dynamic and challenging situations.
Module 1: Investigating Atrocities
Step into the shoes of a UNMO Team Leader in this immersive simulation that mirrors the complexities of an ongoing armed conflict. Inspired by the United Nations Military Observer (UNMO) training materials, this scenario centers around a border village  called Maremane, once known for its vibrant multi-ethnic community now struggling with regular incidents of conflict.
Recently, a tragic event has shaken Maremane to its core. Arson, the killing of local guards, the slaughter of livestock, and the harrowing abduction of civilians, including minors, have left the village in turmoil.
Your mission is twofold:
1. Investigate the troubling reports of missing persons and unidentified bodies within Maremane village;
2. Accurately report your findings to the Chief Military Observer.
As you navigate this delicate task, you will encounter challenges, including at a checkpoint on a bridge. Remember to heed UN security updates and approach interactions with villagers with caution. Uphold the peacekeeping principle of impartiality in all inquiries. Player proficiency will be assessed based on the execution of fundamental field interactions, including basic investigation and verification techniques, adeptness in building constructive liaisons with local communities, skill in negotiating and mediating potentially sensitive situations, and (eventually) the ability to effectively utilize language assistants for clear communication.
Testing
Versions of the simulation were played by military officers and civilians in graduate courses in Canada since 2021 at:
Canadian Forces College (CFC)
Collège Militaire Royale St Jean (CMR St Jean)
Royal Military College (RMC).
Testing was also completed internationally at:
Birendra Peace Operations Training Centre (BPOTC)
Bangladesh International Peace Operations Training Centre (BIPSOT)
Kenya's International Peace Support Training Centre (IPSTC)
Korea National Defence University (KNDU) – PKO center
National Peace Operations Training School of Uruguay (ENOPU).
Climate Affected Conflict
This module delves into the intricate relationship between peacekeeping operations and regions affected by extreme weather events, particularly in the global south. The global south has been disproportionately impacted by climate change and environmental degradation, setting a unique backdrop for our investigation.  Module 2 goes beyond surface-level understanding, exploring how these conditions shape local communities, influence conflict dynamics, and impact peacekeeping effectiveness.
Players act as the UN Military Observer Investigation Lead navigating an Internally Displaced Persons (IDP) camp, which is firmly under the control of one of the armed factions. This mission calls for acute observational skills and strategic thinking, as every decision holds significant weight.
Future iterations will introduce advanced features, allowing players to plan mission logistics and refine investigation strategies. Additionally, you'll engage with a diverse array of stakeholders, including fellow peacekeepers, communities facing conflict and climate challenges, and even belligerent forces aiming to disrupt peace efforts. This expanded scope promises an immersive experience to learn about the complex world of modern peacekeeping.
Testing
Played in a course at the Collège militaire royal de Saint-Jean (CMR St Jean) to teach and illustrate the effects of climate change on the local population, on armed conflict (both the positive and negative effects), and on peace operations in the field.
Protection of Civilians
(Early prototype)
These prototypes explore the range of activities that peacekeepers must carry out in order to protect local population from imminent threats.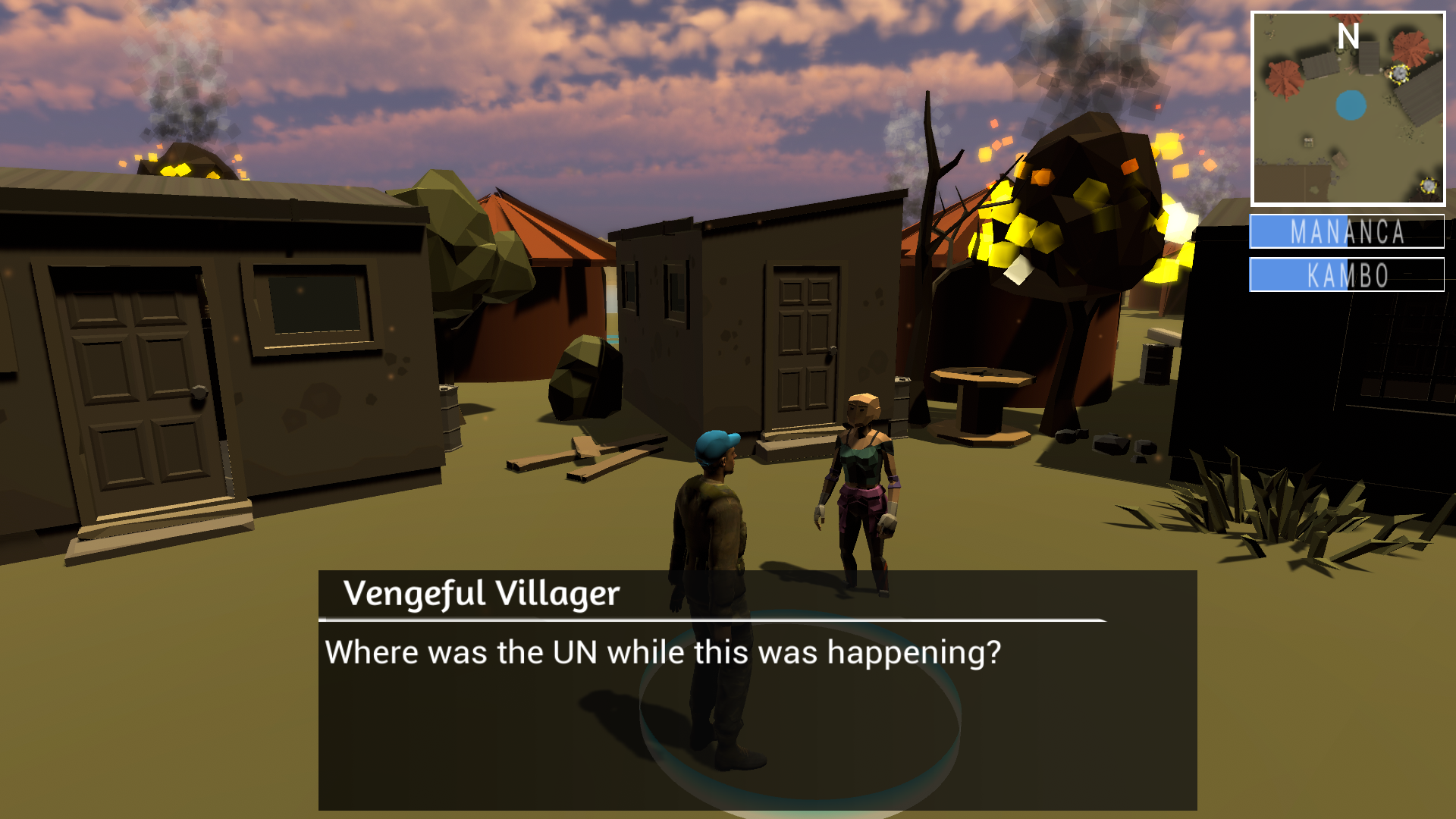 With our commitment to continuous improvement and expansion, we are actively engaged in discussions with diverse stakeholders. These ongoing dialogues seek to broaden the simulations to incorporate United Nations Police (UNPOL), and civilian roles in modern peacekeeping. We are also exploring collaborative ventures with the Royal Canadian Mounted Police (RCMP) to develop modules tailored to domestic training needs. This strategic partnership promises to yield specialized training experiences, aligning with the rigorous standards set forth by both the UN and law enforcement agencies.
We forge ahead refining and expanding our training modules. We look forward to welcoming you on this transformative journey in peacekeeping education. Together, we endeavor to equip peacekeepers, professionals and the general public with the expertise needed to understand and navigate the complexities of modern conflict resolution and humanitarian efforts.
Prototypes were developed in Unity Engine using Game Creator. The prototypes are for Windows but other operating systems are anticipated to be added. After Unity creates the Build (one for each module), they are placed on Google drive and can be downloaded. Voices were generated using Speechelo. Much of the material draws upon UN Special Training Materials (STM) in the UN Peacekeeping Resource Hub.